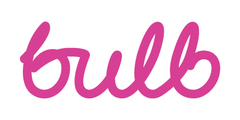 Description
What you'll do at Bulb
You'll have the exciting job of leading the Bulb Labs team. Bulb Labs is our way of learning about new technologies and techniques that will help our members save money on their energy bills.
As the Head of Bulb Labs, you'll spearhead a team of engineers, user researchers and designers in their mission to enhance the user experience for Bulb members.
What we're doing
We're the UK's biggest green energy supplier, but this is only the start of our mission. We're giving the UK population an alternative to the Big Six by offering a renewable and affordable alternative.
To do this we're creating an outstanding team, full of incredible tech talent. We're a tech-focused company, constantly looking at how we can automate processes to deliver our members the best user experience.
Anyone looking to join Bulb should be able to work well under pressure, collaborate with their colleagues, and manage multiple projects at the same time. Do this and we'll reward you with an enjoyable and friendly work environment, competitive benefits, and a workplace that promotes career development.
A few of the things we're looking for
An inventive thinker and doer who enjoys working closely with design and research to spot new opportunities
You're focused and fast - and do whatever is needed to test the next biggest assumption in an idea in the quickest way possible
Requirements
We'd like you to have:
Experience leading a multi-disciplinary team of engineers, designers and researchers to deliver world-class consumer products, perhaps in a high growth startup as a founder or early employee
Technical mindset, and the ability to hack together a prototype to communicate an idea, and engage with engineers on architectural decisions
Experience in prototyping, sketching and developing MVPs to quickly test new ideas
Benefits
If that's you, we offer some wonderful benefits:
Collaborative, flexible and friendly environment
Competitive salary, share options and bonus
25 days holiday (excluding bank holidays)
1 month sabbatical leave every year
Enhanced parental leave
Training budget, healthcare and a pension plan with employer contributions
Cycle to work scheme
Free breakfast on Fridays
Everyone gets their own KeepCup
Choose your own tech equipment
Application Closing Date: 10th October 2018