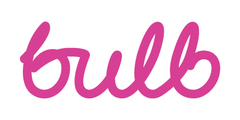 Description
Bulb is making energy simpler, cheaper, greener. We are an independent, technology-led green energy company. Our unique operating model provides low-cost renewable energy to UK homes and businesses. Based in the heart of London's vibrant startup community, we're also the first and only UK energy supplier to achieve B Corp status.
We're looking for a number of Strategy Managers to join Bulb's Innovation team.

As a Strategy Manager at Bulb, you will deliver insight and impact through projects that grow our business and delight our members.
Lead multidisciplinary teams in developing and executing strategic projects
Communicate strategic projects to team members, suppliers, and members, so they understand how these projects contribute to Bulb's mission
Contribute to the setting, monitoring, and reporting of quarterly objectives, key results, and strategic priorities
Acting as a resource across different functions at Bulb, supporting teams with problem solving, analysis, and strategy
Requirements
At Bulb we want to hire people with the experience necessary to get going quickly, but who are also interested in learning new things and are comfortable working in a changing environment. Here are some of the things we think will be valuable, but we're also open-minded.
If you're considering being our Strategy Manager then you're likely to be an ambitious consultant in a top-tier strategy firm. You'll communicate complex issues simply and are comfortable with fast data-driven decision making in a way that delivers actionable recommendations. You should have a hunger for getting things done and achieving results that deliver real impact.
It goes without saying we would love you to have strong strategic skills, including quantitative analysis and modelling, structured thinking and logical reasoning. You'll be an incredibly confident communicator - able to interact internally and externally at all levels of seniority. And you'll have proven project management and planning skills.
Excellent written and oral communication skills
Experience in leading teams to develop and deliver large scale complex projects, as well as tracking and measuring the impact of those project
Experience in conducting analysis and developing recommendations for executives at multinational corporations or governments
Experience in procuring, negotiating, and maintaining supplier relationships
Ability to quickly diagnose the root cause of a problem using data, and recommending a solution and plan of action
Application deadline: August 25th, 2018

Benefits
Be part of a growing technology startup and help shape the future of energy
Collaborative, flexible and friendly environment
Competitive salary, share options and bonus
25 days holiday
Enhanced parental leave
Training budget, healthcare and a pension plan with employer contributions, childcare voucher scheme, cycle to work scheme
Great coffee, teas and fruit
Close date for applications is 25th August 2018