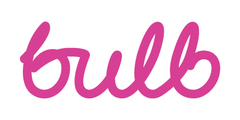 Senior Designer - Website
Description
Bulb is an independent, technology-led green energy company with one mission: to make energy simpler, cheaper, greener. Our unique operating model provides low-cost renewable energy to UK homes and businesses. We're the first and only UK energy supplier to achieve B Corp status.


But energy is complicated, and people don't trust things they don't understand. We use great design to tell a compelling story, make complex things simple and build trust into the relationships we're creating with our members.
It's a challenge, but a good one. If you're up for it, we'd love to hear from you.
In this role you will:
• Work with the Marketing, Growth and Product teams, turning briefs into compelling designs for bulb.co.uk, which are accessible across web, iOS, Android
• Sketch and develop ideas using the right tools to communicate with the right people, whether that's a whiteboard, paper, post-its, Figma or your sketchbook
• Work with the Research team to understand Bulb's audiences, what motivates them, and what they need to know
• Collaborate with the Content team to develop the story, knowing when to challenge the brief to move things in new directions
• Choose the best medium for the message, for example commissioning illustration, creating charts, interactive tools, animations or video
• Work with our design system, Solar, and develop it further by collaborating with the team to create and define new assets
• Work with developers and engineers for pixel perfect delivery every time
• Collaborate with the broader design team to ensure a consistent, creative, member-focussed approach in everything we do
• Be an active team player, participating in crits, sprint and project planning
Requirements
We want to hire people with the experience necessary to get going quickly at Bulb. We're growing fast, so you should also feel comfortable working in a changing environment, helping to develop our collaborative, creative team.
Our ideal candidate will have:
• An outstanding portfolio, showcasing your experience in idea generation, typography, visual and responsive web design
• The confidence and ability to take a brief from a sketch to polished delivery with minimal supervision
• Expert knowledge of industry-standard creative tools
• Experience designing for accessibility
• Excellent written and verbal communication skills
• Experience commissioning illustration and photography
• Strong opinions loosely held
• Some knowledge of HTML, CSS and JavaScript is a big plus
Bulb cares deeply about helping the technology industry become a more inclusive and diverse place, and work hard to lead by example.
Benefits
Be part of a growing technology startup and help shape the future of energy.
Training budget of £1000 a year, plus five working days to spend on professional or personal development. You can use this for training courses, books or conferences.
33 days holiday a year (including bank holidays) and the option to buy up to 5 more.
After a year at Bulb, you can take an additional month of unpaid leave to travel, work on personal projects or simply to recharge and reboot.
12 weeks of full pay for maternity, paternity or adoption leave.
We all own a bit of Bulb.
Activities to improve your mental and physical well being including office yoga, meditation and Sanctus coaching.
Healthcare and a pension plan with employer contributions, childcare voucher scheme and a cycle to work scheme.
Upload your photo
Please provide an image in PNG, JPG or JPEG format.