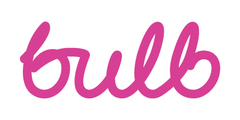 Senior / Lead User Researcher
Description
Bulb is an independent, technology-led green energy company with one mission: to make energy simpler, cheaper and greener. Our unique operating model provides affordable renewable energy to UK homes and businesses. And we're the first and only UK energy supplier to achieve B Corp status.

We're looking for a Senior or Lead User Researcher to work closely with our Design, Product, Engineering and Innovation teams. As the voice of our members you'll deliver insight to help us create high-impact products, enabling millions of members to reduce their bills and lower their carbon emissions. A big challenge, with big results.
In this role you will:
Be the voice of the user in strategic and tactical discussions across the business, and a strong advocate for user research
Share the results of user research with senior stakeholders and project teams in compelling, engaging ways
Partner with Design, Product, Engineering and Innovation teams to identify business problems and opportunities
Lead your own research, confident you're using the right methods and approach for every job
Research across multiple platforms in different ways, from web to mobile, physical products to digital
Know when and how to dive into the data yourself and when to collaborate with our team of data scientists, for robust qualitative insights backed up with quantitative analysis
Explore new ways of working – collaborating with, and mentoring less experienced members of the team
Requirements
At Bulb we want to hire people with the experience necessary to get going quickly, but who are also interested in learning new things and are comfortable working in a changing environment.
Relevant Experience
A solid academic background, with a masters qualification preferred
Extensive experience in a variety of qualitative design research methods and tools
Fluency in quantitative research methods and sharp analytical skills
Being comfortable with SQL, Excel and Python is a bonus. Or a genuine passion to learn – we run in-house training
High comfort level working in a self-directed environment and navigating ambiguity
Strong presentation and storytelling skills
Business savvy, with an ability to think strategically
Happy to help direct and inspire our design teams to get hands on with research of their own
Benefits
If that's you, we offer some great benefits:
Be part of a growing technology startup and help shape the future of energy
Collaborative, flexible and friendly environment
Competitive salary, share options and bonus
25 days holiday (excluding bank holidays)
1 month sabbatical leave after your first year
Training budget, healthcare and a pension plan with employer contributions
Cycle to work scheme
Free breakfast on Fridays
Upload your photo
Please provide an image in PNG, JPG or JPEG format.