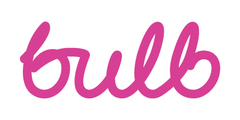 Description
Bulb is a technology-led renewable energy company. Bulb is making energy simpler, cheaper, greener for its members.
Our Data Science group is responsible for the full lifetime of our data products; from sourcing data, analysis and reporting, training and deploying Machine Learning models; there are huge opportunities to apply Data Science right across Bulb.
Bulb cares deeply about helping the technology industry become a more inclusive and diverse place and we work hard to lead by example.
Responsibilities:
• Analyse data and report results to help inform decision making
• Use data insights to design and build Machine Learning algorithms
• Design and perform experiments to test the effectiveness of products we build and actions we take
• Mentor junior data scientists and collaborate and advise on projects
Requirements
At Bulb we want to hire people with the experience necessary to get going quickly, but who are also interested in learning new things and are comfortable working in a changing environment.
We're looking for candidates who have the following:
• Masters/PhD or equivalent experience in a quantitative field such as Statistics, Computer Science, Applied Sciences or Operational Research
• 5+ years experience applying Machine Learning to real-world problems
• Comfortable coding in Python and SQL
• Comfortable with challenging prescribed thinking
• Exceptional communication skills, able to communicate complex ideas in a simple fashion
Experience with cloud infrastructure (GCP, AWS, Azure) would be considered beneficial.
Benefits
At Bulb, we offer:
• A chance to be part of a growing technology startup, helping to shape the future of energy
• A collaborative, flexible and friendly environment
• A competitive salary, share options and bonus
• 25 days holiday
• Enhanced parental leave
• A training budget, healthcare and a pension plan with employer contributions, childcare voucher scheme, cycle to work scheme
• Great coffee, teas and fruit
Upload your photo
Please provide an image in PNG, JPG or JPEG format.