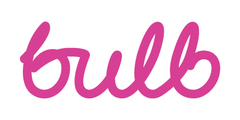 Principal Software Engineer
Description
About Bulb
Bulb is the UK's fastest growing energy supplier, providing affordable renewable energy to homes and businesses across the UK. Founded in 2015, Bulb's mission is to help its members reduce their bills and their carbon impact.
Based in the heart of London's vibrant startup community, we are also the first and only UK energy supplier to achieve B Corp status. We believe people are ready for an energy company they can feel good about.
Bulb cares deeply about helping its industry become a more inclusive and diverse place and we work hard to lead by example in this.
Requirements
What you'll do at Bulb
At Bulb we want to hire people with the experiences necessary to get going quickly, but who are also interested in learning new things and are comfortable working in a changing environment.
Here are some of the things we think will be valuable, but we're also open-minded. If you recognise yourself any of these traits then we'd love for you to send us an application.
Expert level knowledge in multiple technologies
Work with CTO to define long term technical strategy, guidelines and principles, and align multiple teams spanning 20+ engineers across multiple pods
Take ownership for large projects stretching beyond quarterly planning ensuring successful delivery, but don't shy away from harder tactical improvements
Identifies and plans strategic improvements across operation of multiple pods / organisation
Help us hire and onboard senior and specialist roles and support the growth of engineers across multiple pods.
Bootstraps new pods ensuring technical alignment at an early stage.
Tech Stack
At Bulb we use a wide variety of technologies. While we have core technologies that we work with, we're always trying to pick the best tool for the job, and are always looking at what's on the horizon.
Our stack currently includes, but is not limited to:
Node, Typescript, Koa, Redux, React, React Native, Webpack, Babel, Flow, GraphQL
Circle CI, Kubernetes, Docker and Google Cloud Platform
Ideally, you would be familiar with these technologies or similar patterns; notably, Typescript/Javascript coupled with React is a core technology for us. But we're more interested in your broad experience of software development than of specific tools or libraries. You should be comfortable getting up-to-speed quickly in new tools and platforms. You should be pragmatic and experienced enough to know when a different choice of technology would be more suitable, and comfortable leading explorations into new technologies.
Team Structure
Teams at Bulb are cross-functional, self-organized and autonomous pods. The key features of this structure are:
You'll be working within a growing cross functional team composed of specialists with backgrounds in DevOps, Engineering and Security.
We practice Scrum/Kanban and work lean.
Work is not siloed, you're able to commit across the stack, and you have a view of all the features the team are working on.
We use data to drive continuous improvement in our development process and we review this data in our fortnightly retrospectives.
We reflect the Bulby working culture.
You will grow in this role over time by:
Being part of a team with a strong commitment to continuous learning - all employees at Bulb are entitled to 5 days training/conferences of your choice each year, with a £1000 budget.
Rapidly learning and adopting new technologies.
We have a continuous open feedback environment which means all Engineers have access to strong mentorship and coaching
Benefits
Be part of a growing technology startup and help shape the future of energy
Collaborative, flexible and friendly environment
Competitive salary, share options and bonus
25 days holiday
Enhanced parental leave
Training budget, healthcare and a pension plan with employer contributions, childcare voucher scheme, cycle to work scheme
Great coffee, teas and fruit
Application Closing Date: June 2019