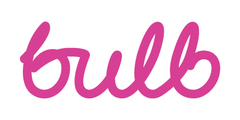 Description
About the team

Bulb is here to help our members cut their energy bills and reduce their carbon emissions. Our product teams make that happen. We're developing products that will deliver the future of energy - from using AI to read energy meters, to making carbon offsetting fun and simple, from finding out how to get the most from Smart Meter data to helping people get paid for their solar energy. We also power the sign-up journey that helped us become the fastest growing company in the UK last year and the internal tools that let us deliver a Trust Pilot score of 9 out of 10.
We work in project-based sprints in integrated teams and encourage an open and transparent working environment.
Currently the following pods are looking for Front-end Engineers:
Member
Help us create applications and services that allow our members to manage their accounts via desktop, mobile, SMS and email. You'd be working in a multi disciplinary team with developers, testers, designers, product managers and subject matter experts, developing across the full stack. We've got ambitious targets for customer self service and we're always looking for innovative and exciting new ideas.
Help Center
This team is responsible for making the help center helpful, surfacing the information that members really need so that they can self-serve if they'd like to or find the right place to ask for more help.
Growth
The number of people that have their energy supplied by Bulb has grown 1,000% per year and we're on a trend to do the same this year. Join the pod that's working on driving this growth as part of a multidisciplinary team working across the full stack, and help tackle exciting challenges, ambitious opportunities, and powerful products - such as the journey customers use to switch their energy, the most visited Bulb product Bulb.co.uk and more!
Requirements
Establish front-end patterns and practices that ensure accessible and performant digital products.
Work closely with designers and engineers to scale and evolve our design system.
Build simple and elegant interfaces, while refactoring the codebase to make it more modular and robust.
Help to make decisions about front-end technologies, to make sure the team stays productive as the front-end stack evolves.
Be experienced in front-end developer position and knowledge of JavaScript.
Have experience maintaining and scaling frontends.
Have a passion for great user experience and a good eye for design.
Take a thoughtful methodological approach to front-end architecture.
Be passionate about performance and accessibility
The Stack

At Bulb we use a wide variety of technologies. While we have core technologies that we work with, we're always trying to pick the best tool for the job, and are always looking at what's on the horizon.
Our stack currently includes:

Node, Typescript, Koa, Redux, React, React Native, Webpack, Babel, Flow
Circle CI, Kubernetes, Docker and Google Cloud Platform
We use Git for source control, write tests and run continuous integration, and review each other's code through pull requests.
Ideally, you would be familiar with these technologies or similar patterns; notably, Typescript/Javascript coupled with React is a core technology for us. But we're more interested in your broad experience of software development than of specific tools or libraries. You should be comfortable getting up-to-speed quickly in new tools and platforms. You should be pragmatic and experienced enough to know when a different choice of technology would be more suitable, and comfortable leading explorations into new technologies.
Team Structure
Teams at Bulb are cross-functional, self-organized and autonomous pods. The key features of this structure are:

You'll be working within a growing cross functional team composed of specialists with backgrounds in DevOps, Engineering and Security.
We practice Scrum/Kanban and work lean.
Work is not siloed, you're able to commit across the stack, and you have a view of all the features the team are working on.
We're use data to drive continuous improvement in our development process and we review this data in our fortnightly retrospectives.
We reflect the Bulby working culture
Benefits
Be part of a growing technology startup and help shape the future of energy.
Training budget of £1000 a year, plus five working days to spend on professional or personal development. You can use this for training courses, books or conferences.
33 days holiday a year (including bank holidays) and the option to buy up to 5 more.
After a year at Bulb, you can take an additional month of unpaid leave to travel, work on personal projects or simply to recharge and reboot.
12 weeks of full pay for maternity, paternity or adoption leave.
We all own a bit of Bulb.
Activities to improve your mental and physical well being including office yoga, meditation and Sanctus coaching.
Healthcare and a pension plan with employer contributions, childcare voucher scheme and a cycle to work scheme.
Upload your photo
Please provide an image in PNG, JPG or JPEG format.